Got the Travel Bug? 5 Ways to Spend Abroad with Spot.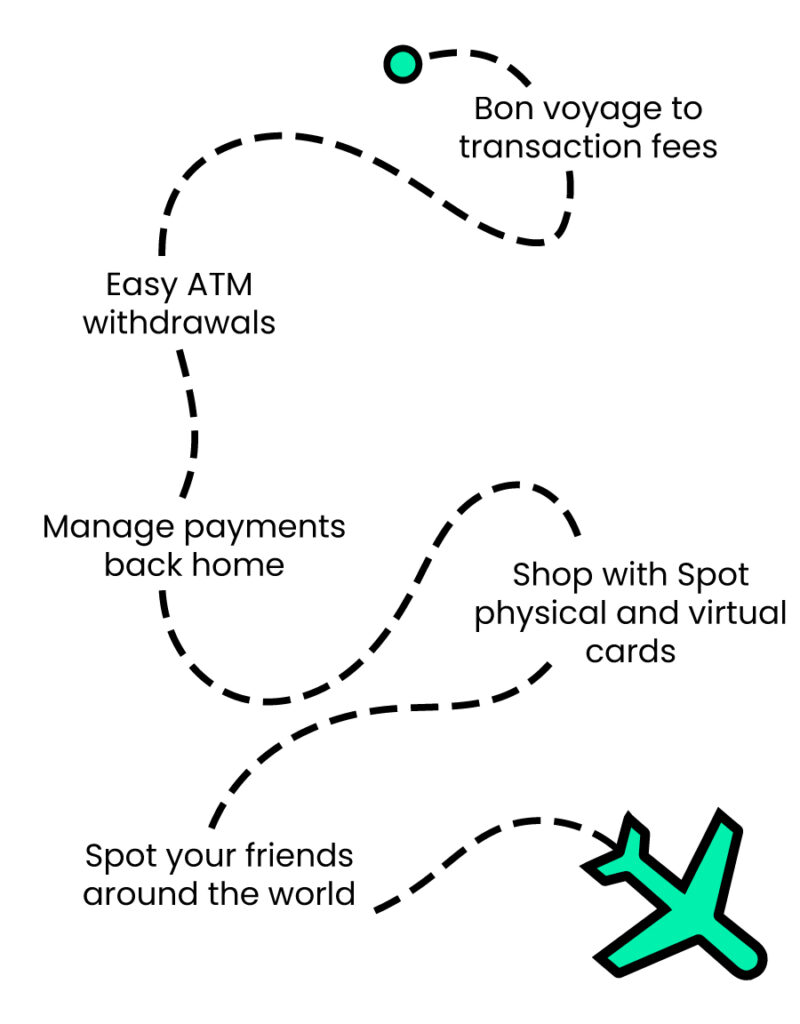 As the festive season approaches, so does the itch to head off on a new adventure. But, unfortunately, travelling isn't as easy (or spontaneous) as we'd like to believe it is. Sure, we love a good spur-of-the-moment local trip, but travelling abroad is another ball game and requires diligent planning, especially regarding managing your finances.
To save you time and effort, Spot Money helps you tick off your to-do list so you can start ticking off that bucket list, and it all starts with making sure your money travels with you. So whether you're planning on travelling abroad or if your wanderlust is steering you towards making some international purchases – we've got it covered. Here's what you need to know:
1. Bon voyage to transaction fees 
Gone are the days when international transaction fees cost more than the coffee you're trying to buy. Your Spot debit and virtual cards can make effortless payments abroad without transaction fees. You will, however, get the exchange rate at the time of purchase. So if it's R18 to the Euro and you spend 2 Euro on a coffee, you pay R36. A few days later it might fluctuate to R19.50, so your 2 Euro coffee will now cost R39. It's still a big win over having to exchange your currency in cash at the airport or realising your bank card doesn't work abroad. Yikes.
2. Easy ATM withdrawals
We get it; sometimes, all you want to do is spend some paper money at a quaint thrift shop or the local farmer's market you stumbled across during your travels. If this sounds more up your alley than tap and pay, you can make international cash withdrawals at an ATM near you for only R65.
3. Keep up with utility payments back home
Travelling abroad usually causes roadblocks when authorising utility payments back home. But, with Spot Money, you can rest assured that all your bills back home are taken care of while you sip sundowners on a foreign beach and forget about adulting for a while.
4. Make instant international payments with Spot physical & virtual cards
If you've decided to keep it local this festive season, Spot Money still puts the world at your fingertips with instant international payments at the tap of the button. Subscribing to streaming services like Netflix, Spotify and Disney+ is even easier. Simply add your Spot card as the primary payment method for the streaming service and the subscription will automatically renew. Alternatively, use your Spot virtual cards for secure online shopping. They give you the freedom to shop without stressing about someone getting their hands on your credit card details. Like normal cards, your virtual card has a card number, expiry date, and CVV number – all the info you need to buy stuff online. And for added security, all transactions are 3D-Secure, so you'll need to enter your OTP to confirm payment.
5. Spot your friends around the world
Need to send money abroad? Fortunately, your money can travel even when you can't. Your Spot app allows you to send money to 15+ countries worldwide. By partnering with our friends at Sikhona Money Transfer, you can rest assured that your money will reach your loved ones abroad.
Life is greater than the what-ifs
At Spot, everything we do is to ensure that you spend less time worrying and more time living life to the fullest. Life's way too short to be worrying about the what-ifs and maybes. Life's also too short to spend it hustling for personalised loans, insurance, and lifestyle offers, so we built an open banking marketplace that does it for you.
Hop onto the Spot app today and enjoy a new banking experience from the comfort of your couch (or during your travels – whatever floats your boat).
The content provided in this article is provided as general information. It is not intended as nor does it constitute financial, tax, legal, investment, or other advice. We accept no responsibility from any loss arising as a result of your reliance on information contained in this article, any related communication or on our app.