Side hustles that actually make bank in South Africa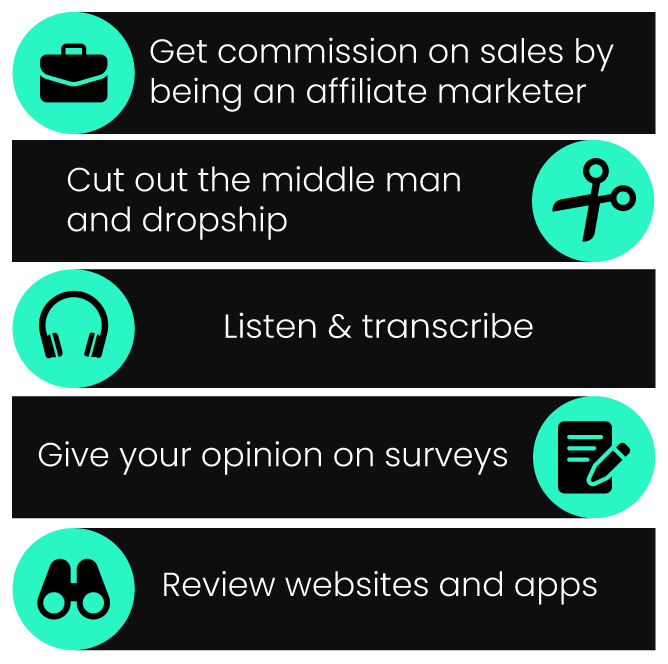 Do you ever feel like you could do with a bit more money at the end of the month? Us too. You're not alone. Across the country, many South Africans are turning to second jobs for additional income. We live in the age of the side hustle.
Talk to almost anyone – a friend, relative, co-worker – and they'll likely have a side hustle in their corner that allows them to earn a little extra dough. 
If you're wondering how you can get in on the action there's good news – it's super easy to start your own side hustle and there are many ways to do it. 
Let's take a closer look at the art of side hustling, and how you can do it. 
What Do You Need To Start a Side Hustle?
That depends on the side hustle you want to start! Before committing to buying any tools or tech you might need, think carefully about what you want to do. 
Do you have a particular talent, like a knack for baking? If so, then selling baked goodies could be ideal for you. Maybe you're a natural with pets? Dog walking or pet sitting might be your calling. 
Some side hustles only require you to have a laptop and internet connection to work which is perfect if you need more flexible hours that won't intrude on your workday. 
The most important thing is to pick a side gig that won't interfere with your day-to-day life too much and that you think you'll enjoy. This is why it's important to try to find something you're naturally good at or at least interested in. 
The Best Side Hustles For Making Some Extra Bank
Generally speaking, the side hustles that only require you to have a laptop pay a bit better and allow you to potentially earn more over time. Here are a few tried-and-trusted side gigs that serve up decent earnings. 
Become an affiliate marketer
Have you ever watched a Youtube video where the person spends a few minutes advertising a product or service with a link to purchase? That's affiliate marketing. Instagram is full of influencers selling third-party products or services on their pages, earning a commission on each sale. 
It's also easier to get into than you think – and you don't need a mass following! All you need to do is sign up for an affiliate program and you can get going. You may be required to have a Facebook or Instagram page, but that can be sorted out quickly. Some popular affiliate program websites include Affiliate.co.za and Amazon Associates. 
Start dropshipping
Dropshipping is becoming all the rage at the moment. Basically dropshipping is having your own online business without the hassle of managing storage or logistics. 
You act as the middleman between the customer and the supplier. The customer orders their item through your website or marketing channel. You contact the supplier and arrange for them to deliver the item to the customer.
You make your money by adding your surcharge to the purchase price you charge the customer. Keep in mind that you will need to set aside time to make phone calls, send emails and follow up with suppliers and delivery men as part of your side of the business. 
Become a transcriber
Have a good ear and are fluent in English? You're in luck! Transcribers are in demand and it's a very easy job. A transcriber is someone who listens to an audio recording and converts what is being said into written words. 
All you need to do is listen carefully and type exactly what you hear. Know the subtitle captions on Netflix? That's all done by transcribers (best job ever, right?). 
Sadly, it's unlikely you'll transcribe for Netflix, but you'll still be transcribing pretty interesting things, if not Bridgerton.  
Answer online surveys
Out of all the online side hustles, answering online surveys is definitely the quickest and easiest way to make some extra cash. Whether or not you're big into brands when you shop, they want to hear from you! 
Your thoughts and opinions are extremely valuable to them as they incorporate customer feedback into their business decisions. 
Be wary of which survey sites you sign up for – there are a lot of scams out there. Any company that asks you to pay them for products or surveys they claim they will send are probably fake. 
Always check online reviews before committing to an online survey company. Once you find a reputable company you can sit back and fill out as many surveys as you like whenever you have a quiet moment in the day. 
Review websites and apps
If you love the ease and convenience of filling out surveys online, reviewing websites and apps should be up your alley as well. 
It works much the same way as surveys do too – brands and businesses need people to share feedback on their apps and websites. You could be one of those people being paid to share your thoughts and feedback with them.
The reviews you share will mostly relate to a site or app's layout, ease of use and overall user experience. Businesses will then use your feedback to improve their product and pay you for your time!
Every Day I'm Hustling
The sky's the limit when it comes to the side hustles you can take on. Just remember that there's no legit "get rich quick" scheme that actually pays off. 
If you want to earn more cash, it will take time and commitment. For the higher paying gigs, you'll likely be expected to do more work too. 
At the end of the day, what you put in is what you get out – the more you work, the more you'll earn. Stick to this golden rule and you'll be hustling with the pros in no time!
The content provided in this article is provided as general information. It is not intended as nor does it constitute financial, tax, legal, investment, or other advice. We accept no responsibility from any loss arising as a result of your reliance on information contained in this article, any related communication or on our app.