Everyone needs a side BAE
We're not asking you to ditch your regular commitment. But let's be real, that side BAE you didn't think you needed gives you more freedom, more control and works out cheaper come month end. 
Oh! (Blush) No, the BAE we mean is your Banking App for Extras, your Spot Money App. It's basically a super app that connects your money with your lifestyle.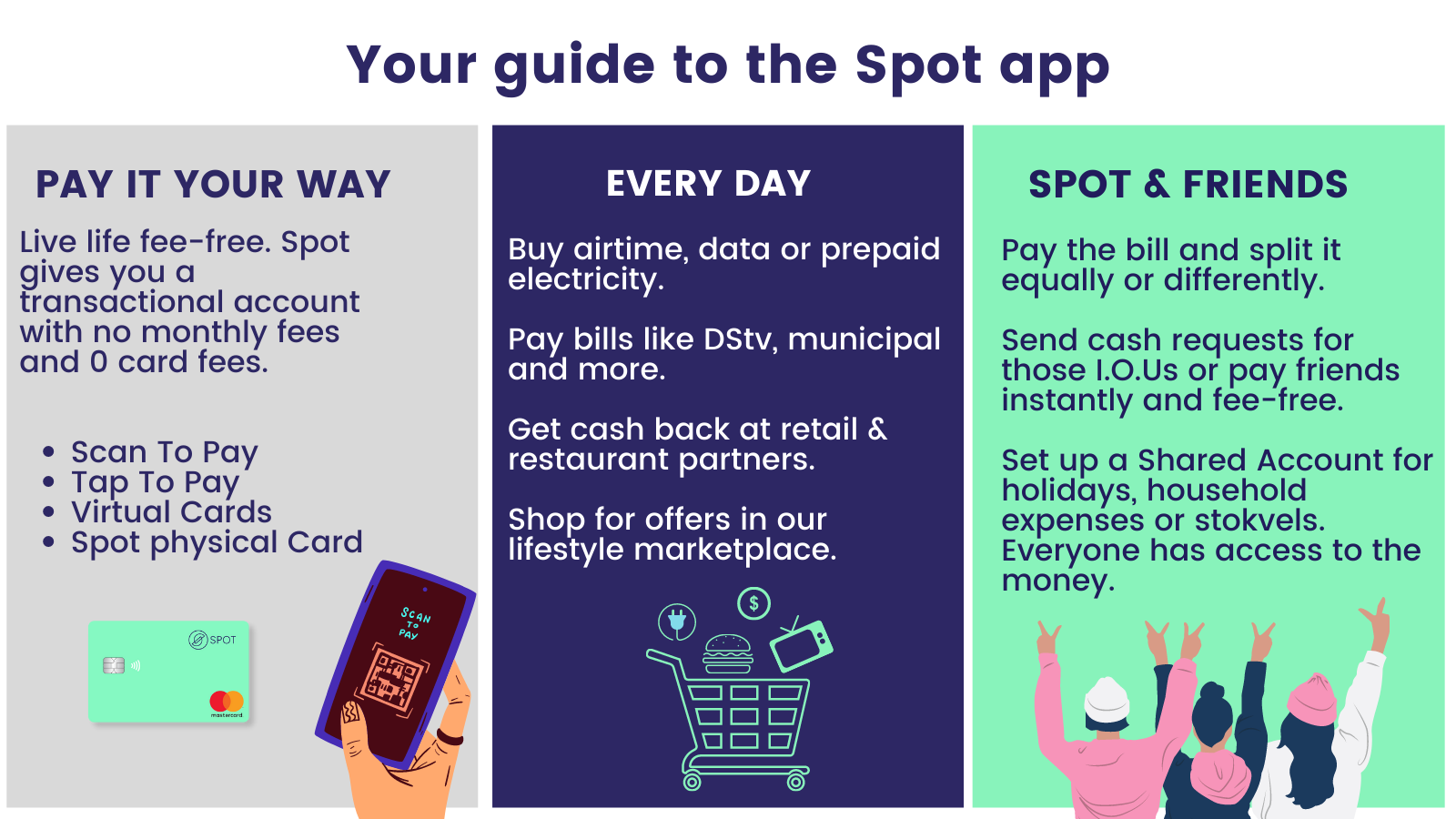 How, you ask? I have a bank account. I have bank cards. I can go and speak to someone at the branch when things go wrong. Okay, I have to wait a while in the queue, and I have to take lots of paperwork with me and do the fingerprint thing, and, and, what? 
Let's be real. You still need your regular bank account for savings, or if you want to finance a car or buy a house.  That's what we call traditional borrowing and spending. But life happens fast- and we need to move money around, not necessarily a lot at a time, but paying for stuff.  
Friends chipping in to order pizza, your roomie doing the groceries, paying bills. Small transactions, best done quickly, easily and with low-to-no fees. 
The Spot app gives you all of this and more. And you can sign up from your sofa, with a snap of your ID and a selfie.   
So, what's the catch? There's no catch. Well, feelings… maybe 😉. 
Think of Spot as the only money app you'll ever need. Transfer your spending money for the month into your Spot account and keep track of your budget with our live transaction feed. 
You can tap to pay with your Spot card or your Android NFC-enabled device, Scan any QR code and shop online with virtual cards. And you get cash back when you use your Spot account at selected partners like Nando's, Checkers and more. 
Pay the day-to-day, like airtime, data or electricity, or bills like DStv, Boxoffice or your municipal bills. You can even buy digital vouchers for PlayStation, Xbox, iTunes and the like for Friday nights at home. 
But you're broke. So signing up to Payflex on the Spot app is a good idea for those bigger purchases with a 0% interest payment plan. 
Last round on you? Split bills not friendships with Spot. Send your mates a cash request on Spot, where you can put in the amount, the reason for asking for the payment – Food and Drink in this case – and there you go. 
They can also spot you back the money they owe instantly and fee-free. Tap the Spot a Friend button and done.  
Heard of Shared Accounts? Where have you been? Whether you are students sharing digs, young professionals sharing a flat with household expenses or planning a getaway with friends. You can set up a Shared Account to make communal payments, transparent to all parties.  
Talking about holidays.  Spot gives you Safari Now, where you can search for the best getaway deals that offer exactly what you want for your break, and you will even get R200 back on your first booking.  
So Spot Money will not replace your big bank account, but it will do many of the things you do there better, cheaper and with more control of your money, honey. 
© Copyright Spot Money SA (Pty) Ltd 2021